Discover more from Hu Knows
Career advice for students and recent grads
You may be the best candidate in the world, but it still might be tough to get an interview if your resume is poorly written. After all, it's not just your experience that lands you an interview, but also how your resume presents that experience: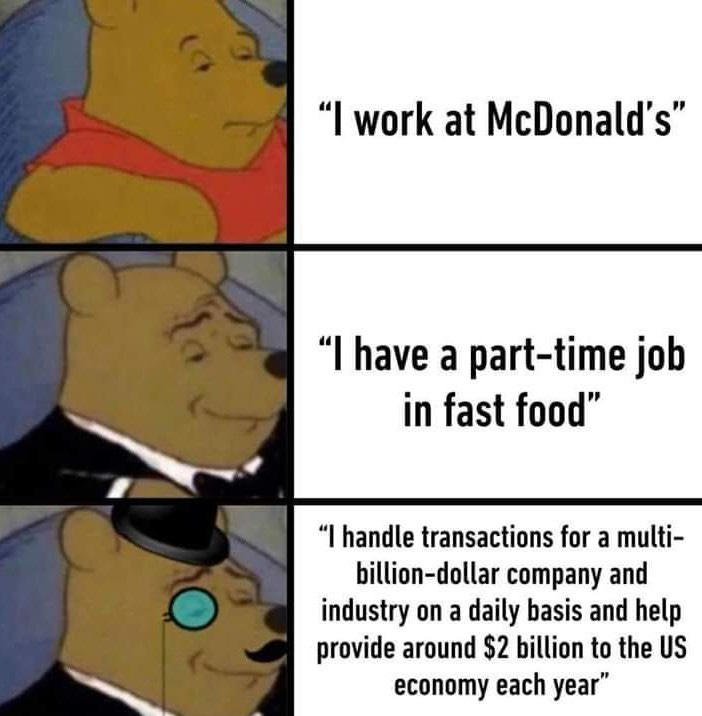 Jokes aside, resumes often fall short in one of these 5 ways:
Including too much information instead of sticking to the highlights

Focusing on responsibilities instead of achievements

Making vague claims without evidence of measurable impact

Not tailoring your resume to the role you're applying for

Poor or distracting formatting / lack of attention to detail
The 15-second rule
Recruiters meet hundreds of people at career fairs, receive dozens of messages per day, and sift through hundreds (if not thousands) of applications for each job posting.
By the time they get to yours, they won't have time to read your resume in detail. At best, they'll skim it for 15 seconds (or less) before making a decision on whether or not to interview you.
Let that sink in.
Think of your resume as your professional Tinder profile. If recruiters aren't impressed by what they see at first glance, they're unlikely to swipe right and ask you out to a first-round interview.
Your job is to get to "Yes" in 15 seconds. Every second counts!
Rule #1: Stick to the highlights.
Your resume should fit on 1 page.
Unless you have 10+ years of work experience, your resume should fit on 1 page. If this sounds impossible, that's because it is — 1 page isn't nearly enough to showcase everything you've ever done.
But that's the point. Your resume is not your life story, it's your highlight reel. It's the door-opener that invites the recruiter to continue the conversation with you during the interview process. Resumes that are too long give off the impression that you don't know how to prioritize. Keep it crisp and save the details for later.
Bullets, not paragraphs.
No one wants to read a wall of text. As a rule of thumb, each role should have no more than 3-4 bullets, and no more than half of your bullets should expand to 2 lines (i.e. at least 50% of your bullets should be only 1 line). If a few words causes one of your bullets to overflow to 2 lines, cut it down to save space.
Highlight any brand-name schools or companies.
If you went to a top school or worked at a brand-name company (BB investment bank, MBB, FAANG, Big 4, Fortune 500, Unicorn), make sure it is prominently displayed.
Recruiters are biased towards big brands because they are easy to recognize and imply a certain level of credibility because you have succeeded in a competitive application process in the past (15 second rule).
If you previously worked at a startup or smaller company that is less well-known, don't assume that the recruiter is familiar with it. You might want to include a brief description below your role such as:
"Lunchclub is a Andreesen Horowitz-backed startup with [50,000] members that uses AI to facilitate warm intros to help people grow their professional networks."
In this case, we're highlighting the prestige of the startup's lead investor (Andreesen Horowitz) and large user base (which I estimate to be around 50k, but don't quote me on that).
Know your audience.
If you come from a technical background, you may be tempted to say something like:
"Used Reynolds-Averaged Navier Stokes computational fluid dynamics to investigate the vortical fluid structures which cause spike-type compressor stall in the high pressure axial compressors of industrial gas turbines."
Instead, you're better off saying:
"Used state-of-the-art computer simulations to investigate stall in gas turbines."
Keep in mind that your recruiter may not have the same depth of technical knowledge as you do. It's best to keep it simple and avoid jargon or excessive detail unless it signals you have the relevant skills your recruiter is looking for.
Remove the objective and summary.
These sections take up valuable space at the top of your resume, where your recruiter is likely to start reading. Objectives are redundant — it's pretty clear that your goal is to get the job to which you are applying. Summaries are not only rarely necessary, but highly subjective; if you're a strong candidate, your experience should be able to speak for itself.
Remove easy-to-get certifications and skills.
Anyone can take an online class, but far fewer people know how to apply what they've learned to create something of value in real life. Although certifications can help you deepen your understanding of a certain topic, including them on your resume can make it look you're overcompensating for a lack of work experience. Instead, showcase these skills through concrete achievements from work and side projects.
If you have a Skills section, make sure it's at the bottom of the page (don't waste valuable real estate at the top). Don't go overboard (especially with programming languages), and only include skills that help you stand out (no Microsoft Office).
Rule #2: Achievements, not responsibilities.
Be specific.
Too many candidates write vague statements about their responsibilities without providing any detail. Examples of "fluffy" statements to avoid include:
Drove product strategy, design and execution based on user research and competitive landscape

Built LBO financial model for C-suite executives to evaluate M&A opportunities

Developed, tested and launched software to further business goals

Conducted market research and created presentations for senior management

Wrote SQL queries to build analytical reports and dashboards
These bullets are just responsibilities worded in the past tense, and are usually obvious from the job title (can you guess which jobs for each?) In addition, none of these include specifics or evidence of business impact.
As a result, these bullets don't make the candidate memorable at all, and make it difficult to compare them to other candidates from similar backgrounds. Remember: recruiters want to know not only what you did, but also why you were a success.
Each bullet should represent a "big win."
Before you start writing, reflect on each role you've had and pick a few "big wins" to showcase. A "big win" is an impactful, high-priority project that you either led or were a major contributor to. If asked to elaborate, you should be able to speak for a solid 2-3 minutes about each example. Be prepared to provide detail on the situation/problem, task, your actions, results, and any learnings or key takeaways.
These bullets will also form the basis of the stories you'll tell during the interview process. (More on interview preparation strategies in the next newsletter — if you haven't subscribed, now is a great time to do so!)
Rule #3: Quantify your impact with metrics.
Back up your bullets with impact.
Impact comes in many different forms:
Revenue - Did you increase revenue by bringing on new customers or increasing revenue from existing ones? How did this affect the top line?

Costs - Did you reduce costs or improve unit economics? How did this affect the bottom line?

Processes - Did you increase productivity or reduce downtime? How do you measure this? How did this affect the bottom line?

Customers - Did you improve user growth, engagement or retention? How about the customer support experience? How did this affect the top and bottom line?

Budget / Investments - Did you raise money for your startup or organization? Did you manage an investment portfolio? What made you successful, and what benchmarks are you using to compare yourself to?

Client Meetings - Did you participate in or lead client meetings? What contributions did you make? What actions were taken as a result of those meetings, and what impact was achieved?

Presentations - Did you create any important reports or presentations? Who was the audience? What actions were taken as a result of your work, and what impact was achieved?

Leadership - Did you lead or manage any teams or organizations? How many people or members? Who were some of your major partners, sponsors, or cross-functional stakeholders? What did you accomplish, and how were you an effective leader?

Recognition - Did you receive any awards or win any competitions? How selective or prestigious were they (e.g. "placed 1st out of 50 teams"), and why did you win?
Back up your impact with metrics.
Examples of data-driven, impact-oriented statements include:
Developed and launched an iOS app for patients to securely access their medical records on-the-go, gaining 7,000 users and $20M in revenue in 6 months

Managed $150k diversified mid-cap equities fund, divesting the portfolio from fossil fuels while outperforming the S&P 500 by 4% since 2015 inception

Built analytical demand forecasting model with a 90% accuracy rate, resulting in a 30% reduction in working capital for a Fortune 100 client in the CPG space

Built LBO valuation model as part of the deal team advising a large private equity firm on the $10.5Bn acquisition of a publicly-traded industrials company

Pitched 6 cost-saving initiatives to senior management and created multi-phase implementation plan, leading to €150M in realized cost savings over 5 years

Founded non-profit organization to mentor 100 K-12 students from low-income families, raising $50,000 in donations for school supplies and achieving a 85% high-school graduation rate (vs. 75% average)

Built automated dashboard using SQL and Tableau to track user growth and engagement metrics, saving 50 man-hours per month for team of 20 data analysts

Created Slack community for students seeking remote freelance opportunities during COVID-19, growing to 20,000 members within first 3 months of launch

Launched a YouTube channel featuring classical piano covers of pop music, gaining 120,000 subscribers and 800 monthly active listeners on Spotify

Placed 1st out of 75 teams at a business plan competition by entering a proposal for low-cost, solar-powered cell phone batteries and won a $10,000 prize
As you can see, numbers strengthen all aspects of your resume — from work experience to organizations, projects, awards and even hobbies that you've been involved in. You can even highlight impactful metrics to help your recruiter get to "Yes" faster, although you should use this method sparingly.
Rule #4: Tailor your resume for each role.
Use keywords from the job description in your resume.
Too often, candidates who are unsure which career path to take will try to "straddle two roles" (e.g. investment banking & consulting, venture capital & private equity) and use one resume for everything. Similarly, candidates who are trying to pivot roles (e.g. software engineering to product management) sometimes fail to frame their experience in a way that is appropriate for the new role.
The harsh truth is that recruiters favor candidates who have either (1) done the job before or (2) clearly demonstrated that they meet all the requirements (15-second rule).
Use keywords from the job description on your resume by changing the verbs to past tense and adding impact metrics for each bullet. If you're able to frame your existing experience this way, that's a good sign that you've got the prerequisite skills and experiences for the job. If not, you'll have a harder time getting the recruiter to "Yes" in 15 seconds, especially if the role requires prior experience.
If you're still not getting any interviews despite successful networking efforts, take a step back to honestly assess where your weaknesses might lie. Then, work backwards from the job description to create a roadmap of skills and experiences that can help you fill any gaps.
If you're a student, you might want to join relevant clubs or get term-time / part-time work experience to strengthen your profile for summer internship recruiting season. If you've graduated and are trying to make a career pivot, try transferring laterally into your desired role at your current company before attempting the leap to a new one (one "pivot" is easier than two).
Showcase relevant experiences and projects.
Especially if you're still in college, you should be accumulating and highlighting relevant experience both inside and outside of your work experience:
Investment banking internships: showcase your experience interning at a boutique investment bank / private equity firm / hedge fund / asset management firm last summer, your leadership role in the student investing club, and the outsized returns you've generated from managing its portfolio.
Management consulting internships: showcase your experience advising non-profits and small businesses in your community, your leadership role in the student consulting club, and the impact you've generated for your clients (particularly from projects with a heavy analytical component).
Software engineering internships: showcase your past internship experience and include links to your Github and shipped projects (specifying tech stack and any awards you've won for each). I say shipped because almost everyone has completed a class project at some point in time. What's more impressive is if you put yours into production (on the App Store, Google Play Store, or Web). Going live also allows you to track usage metrics, which is important to proving your impact.
Product management internships: showcase past features, products or startups you've been involved in from work, school or side projects. Ideally, you owned and launched these projects from start to finish. Show that you have a strong technical background (APM/RPM programs almost exclusively hire CS majors with software engineering experience), and back up your impact with metrics.
Remember that the best way to prove to someone that you can do the job is to show them that you've done it before (and excelled at it).
Don't wait for someone else's permission to pursue the role you've always dreamed of having — find a way to do it today.
Omit irrelevant roles and projects.
Goldman Sachs won't care if you have a part-time job as a waitress. Facebook won't care if you were once a summer camp counselor. Take out anything that doesn't get you to "Yes" in 15 seconds, including volunteering roles at organizations you're not actively leading or aren't related to the mission of the company you're applying for (move these to the Interests section).
The exception to this rule is if you have absolutely no professional work experience; in this case, keep them (and use metrics to show that your impact was meaningful).
If you're not sure whether something is relevant, ask yourself "Does this experience strengthen my candidacy for X position specifically?" (see my tip above about using keywords and phrases from the job description). If the answer is no, eliminate it. This is especially important if you are trying to pivot careers and have become pigeonholed into a role that you're trying to move away from.
Rule #5: Presentation matters.
Use a simple template.
Too many fonts, colors, sizes and styles can be distracting. Always stick to black-and-white and use readable fonts like Times New Roman, Cambria, Garamond, Calibri, Arial or Helvetica. Make sure everything is properly left- and right-aligned and that you have comfortable line spacing between each section / role to maximize readability. Double check that any styles you use are consistent throughout your resume, and be especially careful with dates.
Click THIS LINK to view my personal resume template (preview below). This template is designed for college students, but can be modified for recent grads (see my comments on the side). If you'd like to download it for your own use, I'd appreciate if you could please subscribe (if you haven't already) and share this post with your networks. This will allow me to help more people and keep sharing free resources with the public. Thanks!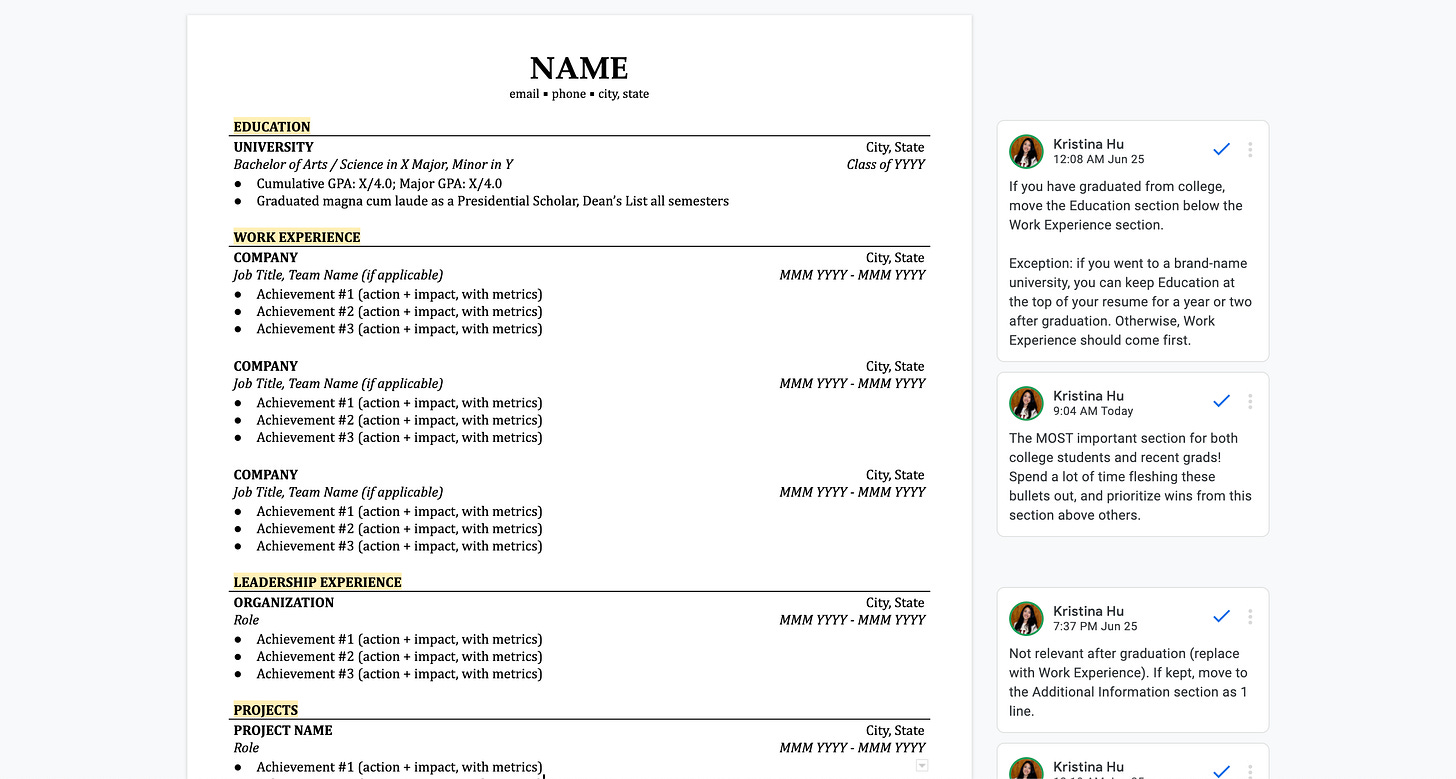 Have someone proofread your resume before sending.
The last thing you want to get dinged for is an embarrassing typo, incorrect contact information or a formatting mistake. Don't rely on spell check — have a human proofread your resume thoroughly before you apply.
One trick is to print it out on paper and go over it with a pen so you can evaluate it with fresh eyes. Try placing it side-by-side next to the job description, putting yourself in the shoes of the recruiter, and imagining yourself applying the 15-second rule.
Save your resume as "FirstName LastName Company Resume.pdf"
Every time I receive a resume titled Resume.doc, my heart sinks. Not only will I instantly forget whose resume it is out of the 50 I have saved on my computer, I might accidentally save over it with the next Resume.doc that comes my way.
Please don't do this. Save your files as FirstName LastName Company Resume.pdf and always use PDF when sending to someone over email. (Save as .doc/.docx if you're uploading to a website applicant tracking system). Not everyone has Microsoft Word installed and many people prefer to view documents on their phone while on-the-go. Make their life easy.
Never apply through the website (if you can avoid it).
Given that the average job posting draws anywhere between several dozen to several thousand resumes, there's a good chance yours will end up in a black hole if you submit it through the the online portal. This means that even the most stellar resume might never see the light of day… for reasons completely outside of your control.
Whenever possible, ask for a referral from an employee at the company who is in your network (assuming you have a strong relationship with this person). Although this tactic primarily applies to recent grads, college students should still build networks and get in touch with company contacts before applying to summer internships.
Start early.
Like any important deliverable, don't expect to write a brilliant resume overnight. It takes time to build perspective on your experiences and capture them eloquently on paper. The best time to update your resume is on an ongoing basis after every major milestone or project you complete — even if you're not actively job-searching.
Make time for regular reflection and be proactive about what you want your next "big win" to be. Writing your future (and your resume) will get a whole lot easier.
——-——-——-——-——-——-——-——-——-——-——-——-——-——-——-——-
Did this article help you improve your resume or land an interview? If so, I'd love to hear it! (Leave a comment below or message me directly on LinkedIn).
Have any tips to add? Feel free to share your thoughts in the comments below.
Until next time,
Kristina